Source: http://www.hey.ntu.edu.sg/issue33/all-alike.html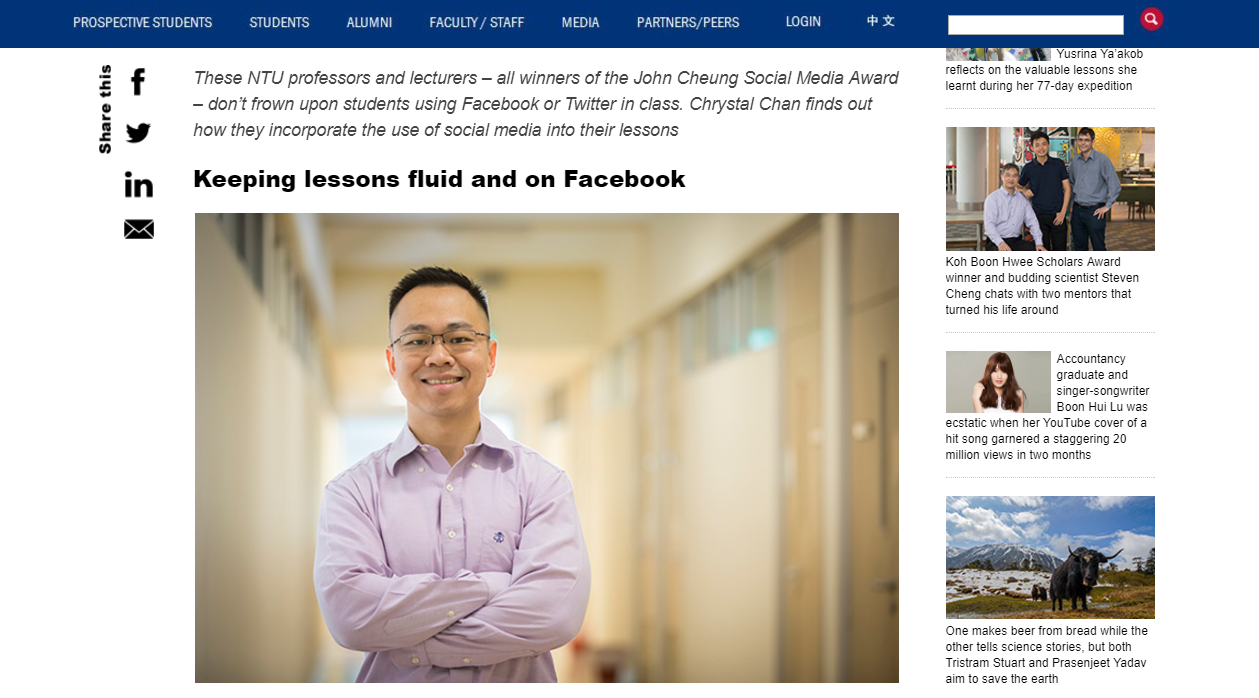 Students easily get into the flow of things in Asst Prof Marcos's interactive classes on fluids engineering. And outside of class, there's always Facebook to keep them interested.
Teaching is in this congenial professor's blood. As an NTU undergraduate 15 years ago, he already began coaching his peers – as many as 20 at a time – in empty tutorial rooms at the School of Mechanical & Aerospace Engineering.
Returning to NTU with a PhD from the Massachusetts Institute of Technology, he's clearly a hit with his students. Responding to private messages about class work does eat into his personal time. But, no matter, he's just happy when his students get the drift.
"I started a Facebook page for my class on thermo-fluids back in 2012 and it now has over 1,000 followers. After each lecture, I post links to YouTube videos of experiments and demonstrations to help students visualise and understand the concepts taught in class. I also use this account to send reminders about upcoming quizzes or extra classes. My students like using this platform to ask questions. They either send their queries privately using Facebook Messenger, or they leave comments on the posts, which generate vibrant discussions that everyone can benefit from."
What his students say:
"The video demos he posts on Facebook give us a clearer picture of what we are learning and how it can be applied. By watching these clips, I get a better grasp of the concepts, and it definitely makes learning more interesting! Asst Prof Marcos also manages to address our queries specifically with the articles he shares. This is important because there is a lot of information online, but not all of it is useful." – Geoffrey Lee, mechanical engineering freshman